Become a part of the Impact Fire team and provide essential fire and life safety services to businesses in your community, keeping their employees and business assets safe. Our team takes pride in developing long-standing relationships with local businesses, and providing superior service and fire protection expertise in the communities we serve.
At Impact Fire you can learn a trade with multiple career paths in fire and life safety, while benefiting from the mentorship and training provided by leading experts at one of the fastest growing companies in the industry.
WHO WE ARE
Impact Fire is a full-service fire protection company, providing installation, maintenance, monitoring, and retrofit of fire safety systems. As dedicated fire protection professionals, we are committed to the preservation of life and property. We provide the highest quality service through unparalleled customer support and technical knowledge.
WHAT WE DO
As a full-service fire protection company, Impact Fire can address all your fire protection needs. We take pride in knowing our fire protection systems offer the maximum level of safety and effectiveness. Impact Fire is committed to meet or exceed your expectations every day. Through our experienced and licensed personnel, we offer 24-hours a day, 365 days a year services to fit your needs.
WHAT ARE WE INTERESTED IN
Joining our team! As an Impact Fire employee, you benefit from increased professional opportunities across our national network of self-perform operations. We provide competitive benefits, training, and leadership opportunities. Learn more about professional opportunities here.
APPRENTICESHIPS & TRAINING PROGRAMS
GROW YOUR KNOWLEDGE
Impact Fire prioritizes training and certifications for its dedicated employees. Start earning wages and gaining on-the-job experience while taking part in accredited courses. Team members who meet the qualifications are eligible to enroll in company-sponsored license programs.
National Institute for Certification in Engineering Technologies (NICET)

American Fire Sprinkler Association (AFSA)

State-specific extinguisher, sprinkler, and alarm certifications

Factory training and certifications from our distributors and other product lines we carry
Cross-training opportunities allow our employees to become more diversified in the fire and life safety industry to correspond with their skills and interests, and broaden their opportunities.
KICKSTART YOUR CAREER
Whether you have transferable skills, prior industry experience, or are looking to start your journey, our apprenticeship programs will give you the support and knowledge you need to go further in your career.
Impact Fire offers interested employees who meet the criteria the opportunity to apply for an apprenticeship in their division of choice.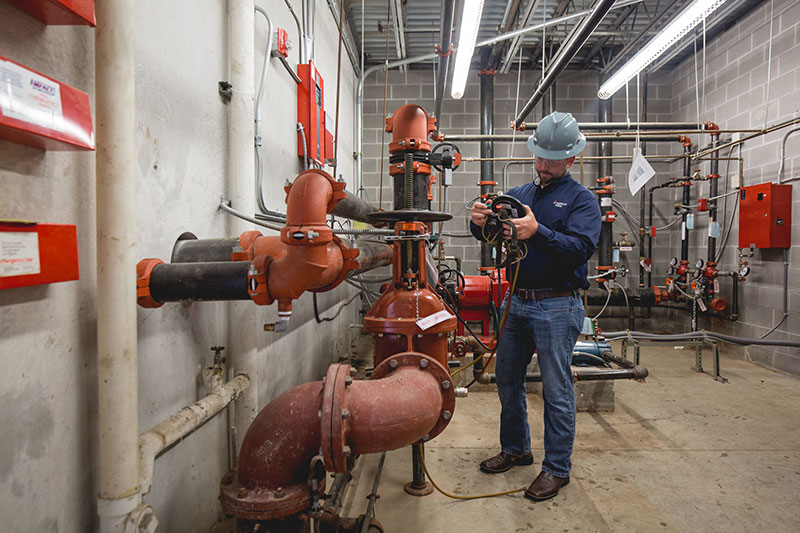 WHERE WILL YOUR
CAREER PATH
TAKE YOU?
Use our interactive career map to plan out your journey to success at Impact Fire.
APPRENTICE / HELPER
Start earning wages while you learn. Get hands-on experience to complement required course work by starting as an Apprentice. Once this role is mastered and any necessary licensing is obtained, you can advance to the role of Field Technician.
FIELD TECHNICIAN
Responsible for inspecting, servicing, installing, and maintaining fire and life safety equipment, a Field Technician is working daily to ensure their customers' needs are met. A deep knowledge of equipment is necessary along with any required licenses. Once this role is mastered, you can be promoted to a Lead Technician position.
LEAD TECHNICIAN
A Lead Technician is responsible for guiding their team in accomplishing superior work for their customers. Whether you're overseeing a new installation or leading a team of inspectors, you hold a critical role in your department, reporting to the Department Manager. As a Lead Technician, you have the potential to become a Sales Representative or a Department Manager in your area of expertise, or continue as a successful Lead Technician.
DISTRICT MANAGER
The District Manager holds a senior operations role within Impact Fire. He or she is responsible for meeting the financial and operational goals of the district on behalf of Impact Fire.
BENEFITS OF JOINING OUR TEAM
WHEN YOU JOIN IMPACT FIRE YOU WILL RECEIVE:
Exceptional guidance and support from our managers

Collaborative culture & environment

Competitive compensation

Robust training opportunities with company reimbursement upon achieving required licensing

Opportunity to work alongside some of the best talent in the fire protection industry

Competitive benefits, including healthcare, dental, vision, life insurance, paid time off and holidays

Company paid short- and long-term disability

Immediately vested 401(k) contribution with match
EXPLORE YOUR CAREER OPPORTUNITIES
We are always looking for motivated individuals interested in joining our growing team. You can find our open positions by clicking the Apply Here button below. If you do not see a specific opportunity that fits your interest or if you have any questions on employment, please email us at jobs@impactfireservices.com .